MedNetwoRx Changes
Quarterly Newsletter

Q4, 2010
Dear Valued MedNetwoRx Customer,
Welcome to the final newsletter of 2010. We wish everyone a happy holiday season and a fantastic year end.

-MedNetwoRx
Customer Spotlight: Britton Vision Associates
Please join us in congratulating BVA on receiving their first eRx bonus check! For participating in the 2009 ePrescribing incentive program they recently received a check in the amount of $64,941.08!

Way to go everyone!
Making ˘ent$ of Meaningful Use

This is the first installment of a series of articles that we will be running for the next year on how to maximize your returns by participating in the Healthcare Stimulus of the HITECH ACT of 2009. We will highlight the developments of the stimulus package including the EMR product certification process, track the maturation of the definition of "meaningful use", spotlight the success stories of our MedNetwoRx family superstars as they transition into the electronic age of healthcare documentation, as well as share some practical experience and expertise of those who have mastered the game.
Our first tip is: BEGIN NOW!
You don't have to have an electronic health record to begin earning dividends from the Healthcare Stimulus. One of the simplest ways to begin documenting the healthcare experience electronically is to begin electronically prescribing for your patients. The benefits of ePrescribing are obvious:

So where's the sense in electronically ePrescribing? Are you skeptical that providers will actually ever receive payment for their efforts?
So far, we've heard from at least 4 practice administrators who recently received their eRx stimulus check for meeting the ePrescribing requirements in 2009. Those customers were Hogan Eye Clinic, Eye Institute of West Florida, Garland Eye Clinic and Britton Vision Associates (BVA). Although only one practice (see the Customer Spotlight for more details on BVA) was willing to let us share the exact amount of their checks, the amounts were described as 'substantial', 'healthy', and 'surprising', and most administrators indicated that the amount exceeded their expectations. Several told us that the effort it took to earn those checks was less than you might think, and well worth it. And none of them have implemented an electronic health record program... yet. They all used the free Allscripts stand-alone ePrescribing solution.
Furthermore, the requirement for earning the 2009 ePrescribing money (reporting ePrescribing activity on 50% of all Medicare encounters) was much more arduous than the minimum requirement for 2010 (reporting ePrescribing on 25 unique Medicare patients). Even at that, none of the practices reporting 2009 earnings started on January 1 of 2009. Eye Institute of West Florida didn't begin until after the mid year point, but still had physicians who were able to meet the minimum requirement. Even though it is the 4th quarter, you could still easily meet the annual requirement for 2010, yes, even without an EMR.
Interested in earning your share of the ePrescribing Stimulus funds for 2010? Call MedNetwoRx at 469-854-8400 for information on how you can get started today.
If you'd like to share your ePrescribing experience with other newsletter subscribers, please email a brief description of your experience to jan.frey@mednetworx.com and we'll add your story to this section of our next newsletter.
Watch for our second tip: "Know the Regulation" next quarter. We'll be including links to web presentations and articles, information regarding live events, and will provide the latest information (in plain English) on what you need to know about Making ˘ent$ of Meaningful Use in 2011.

Always on the lookout for new ways to make service easier and more convenient, our vision is always set toward the future, looking for the next innovation. We are excited to announce that we have begun work to implement just such an innovation. The
MedNetwoRx Customer WebPortal will soon allow customers to login to our system and make new cases, view the progress of their current cases, have access to our immense resource of helpful how-to documents, as well as a wide variety of other actions too numerous to mention.

It is our hope that combined with the MedNetwoRx password management website already in place that we will be able to significantly improve your quality of service, while simultaneously decreasing the amount of time you spend dealing with issues. This will in turn also decrease hold times during busy times of day and free up our staff to be able to react more quickly to emergency situations that may arise.
Key Whitman Eye and Laser Center Launches EMR
On September 27, Key Whitman Eye and Laser Center (KWE) became the first MedNetwoRx ophthalmic practice to implement an electronic health record (EHR). Congratulations would be an understatement!
The project has been a very deliberate process over the past year, beginning with the selection of the Client Core Project Team,
led by Administrator, Dan Chambers, and Client Project Manager, Susan Thomas. The Core Project team consisted of physician champions and ophthalmic technicians who would later become the project Super Users. The Core Team conducted at least 4 site visits to other Medflow clinics to learn from their experience how to implement this product. The site visits were followed by weeks of intense current workflow analysis, one of the key ingredients to effective training down the road. The project was officially launched with a Kick-Off meeting on the evening of June 8th at the clinic's main location in Dallas.
Medflow, a premier ophthalmic medical record vendor based in Charlotte, NC, has developed a unique approach to implementation and training, and worked closely with the MedNetwoRx implementation Team, lead by Chanda Williams, to customize that strategy even further. Training began in July for the team of 11 Super Users representing each of the clinic locations. The introductory training required 3 days onsite at the MedNetwoRx training room in Dallas.
Super User training continued with a series of 8 weeks of Live Web Training sessions broadcasted in the onsite training lab, which was set up in the Dallas clinic location, under the direction of MedNetwoRx Field Services Manager, Jeremy Weatherly. Each week there were four, two hour Live web training sessions led by Medflow and MedNetworx trainers. This was a considerable commitment of time away from clinic productivity for each Super User, but one of the hallmarks of the Medflow method of training. Each Super User was then charged to train the end users in the clinic in the remaining days prior to Go Live.
In addition to training the clinic staff, there were 6 weeks of web training for the Optical Shop staff, and 2 evening sessions scheduled specifically for training the doctors.
A process called "backfilling" began as the Super Users competency grew. Backfilling is the process by which historical clinical data is pre-loaded into the production database in preparation of the initial patient encounter. Super Users, and their team members as they were trained as well, were expected to spend time in the onsite tra
KWE "Super User" Shawn Pendleton having a little fun with his new role!
ining lab backfilling patient records into the system. This exercise not only helped build the database with historical records, it also served as an excellent training ground simulating Go Live experience in the system.
The week prior to Go Live was dedicated to readiness, with intensive testing of the users, system configuration, live patient experiences to test workflows, loading the optical inventory into the Medflow system and last minute supplemental training.
Sept 20th, the Dallas Optical Shop went live. On Sept 27th the Dallas Clinic went live. Although no Go Live experience is flawless, the Dallas team had an enormously successful first week on the Medflow system. One of the lead Medflow trainers who was onsite to support the Go Live stated this was the most successful implementation which he had ever been associated . This was a high compliment coming from this seasoned Medflow veteran!
But KWE is not done yet. As they tweak their processes and continue to learn best practices in the new system, the Project Team is preparing for, and looking forward to, completing the implementation. The Dallas ASC will Go Live on March 7th, 2011 with the Plano and Arlington clinics to follow.

Please join us as we celebrate this success with our friends at Key Whitman Eye and Laser Clinic!
For more information on implementing the Medflow EHR, please contact Jan Frey at 469-854-8449 or jan.frey@mednetworx.com.
Employee Spotlight: Jon Jackson
We at MedNetwoRx are fortunate to have so many skilled, talented, and friendly people in our midst that sometimes our best and brightest go without recognition of their achievements. A flawless diamond hidden among other diamonds is often difficult to spot. It can sometimes take something extraordinary to set someone apart. Recently one of our newest employees, Mr. Jon Jackson has set himself apart in just such a manner.
Along with his wife Trace, Jon spent 2 weeks in a small village in Uganda near the town of Gulu, called the Village of Hope. Their powerful experiences of joy, camaraderie, and heartache are just the kind of extraordinary thing that make us take note of these sort of flawless
diamonds. We hold ourselves to a high mark of excellence at MedNetwoRx, so it is only right that we applaud our own for exceeding that high mark.
Please take some time to read about his experiences in the Village of Hope, Uganda and join us in giving him a standing ovation at this incredible act of charity, generosity, and humanity.
"Through Village of Hope they are plucked from poverty. They are counseled and cared for. They are provided shelter, safety, food, community and love. And after those many atrocities they were forced to be a part of, they can finally find the kind of freedom and forgiveness that might otherwise seem unattainable. Oh - and did we mention they are children!




Jon and some of the boys




former abductees of the Lord's Resistance Army - a militant group of terrorists based in northern Uganda that is known for its heinous human rights violations, including murder, abduction, mutilation, sexual enslavement of women and children, and forcing kids to participate in hostilities.
Village of Hope gives them a future."



Trace and

some

of the girls
If you would like to see the rest of their story and some more pictures of the children they met, you can do so at the link listed below:
TechTips: iPad WiFi CitRx
If you have acquired an iPad and haven't yet mastered the configuration methods necessary to connect it to our Citrix applications over Wifi, search no longer. Some of our sharp tacks in the Tech Support drawer have been pointedly devising a document to pro
vide you with just such a set of instructions.
Of course if you want to be able to access this service over 3g or even 4g, there is a small charge for the configuration and service, but this provides you with access in the office free of charge. Assuming of course your building has a wireless router.
If you are interested in configuring your iPad for *limited access to our applications over your WiFi, then click here
.
*Note: Not all applications are available yet. More will follow the current available set.
As always if you have any questions about this process or even if you are interested in our cellular accessible service for access to these same applications anywhere on your 3g iPad or iPhone, call our friendly Technical Support department @ 866.619.4357
MedFlow: Certified by the Drummond Group
Medflow has been ONC-ATCB certified by the Drummond Group on the 24th of last month. General release of the certified version is scheduled to be available January 31, 2011.
This is confirmed, planned and on schedule!

A bill, targeting corporations found guilty of Medicare or Medicaid fraud and the executives who were in charge when it happened, as in the case of Rick Scott, passed the House by voice vote on the 23rd of September, with bipartisan support. It was scheduled to go before the Senate on the 22nd of last month. The bill was read twice and refered to the Committee on Finance, where it will sit until the Committee can submit an approved version for vote.
This policy would put new weapons in the arsenal of the HealthCare Heroes of the FBI's fraud division. It would, amongst other things, preclude executives and staff from companies under investigation of or in prosecution for healthcare fraud from participating in the programs with new corporate entities.
This legislation is targeted at curbing a specific tactic used by certain previous healthcare industry corporations that have been found guilty of fraud, and then blame it on a subsidiary, pay the fines for that company's 'wrong-doings' and continue to commit fraud under other subsidiaries until they are caught again. The bi-partisan nature of the Bill's origin makes it likely to pass after it is reviewed by the Senate later this month.
You can read more about through the following links:
http://www.gop.gov/bill/111/2/hr6130
http://www.healthnewsflorida.org/index.cfm/go/public.articleView/article/19801
http://www.govtrack.us/congress/bill.xpd?bill=h111-6130
A happy holiday cheer to all of our closest friends, from MedNetwoRx:
We want to express
that we wish you the best
of this holiday's joy.
To do this we must employ
a poem of sorts
Full of winter and witty retorts.
"A toast I propose!"
over a wine with an excellent nose.
"To all of our customers and clients!
To network security and HIPAA compliance!
To rosy cheeks and runny noses!
To nosey runs and cheeky roses!"
We all raise our glass to that which makes holidays special.
Today we raise them to you.
From the top of our beanies, to the soles of our galoshes.
From the stripes of our mitts, to the tassels of our scarves.
From the bottom of our hearts, to the tips of our tongues.
Cheers! Happy Holidays! And an economically sound New Year!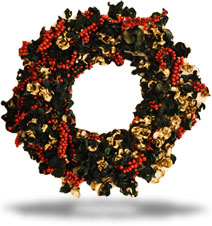 CMS Sets Date for Compliancy Format
The Centers for Medicare and Medicaid Services (CMS) has set the following dates for the HIPAA X12 version 4010A1 to change to ASC X12 version 50
10:
Level I Compliance by: December 31, 2010 Level II Compliance by: December 31, 2011 All covered entities must be fully compliant by: January 1, 2012
Level I Compliance means "that a covered entity can demonstrably create and receive compliant transactions, resulting from the compliance of all design/build activities and internal testing."
Level II Compliance means "that a covered entity has completed end to end testing with each of its trading partners, and is able to operate in production mode with the new version of the standards."

At this time our vendors are in the process of creating this new format and are on target to meet all the compliance dates.
TechTips: HOLIDAY PUMPKIN PIE RECIPE
To continue our tradition started last year, we've come up with another tasty holiday recipe. Last year we introduced you to Oatmeal chocolate chip cookies, (click here to see that recipe), this year it is Pumpkin Pie.
Enjoy!
1 (15 ounce) can pumpkin puree
1 (14 ounce) can sweetened condensed milk
2 egg yolks
1 teaspoon ground cinnamon
1/2 teaspoon ground ginger
1/2 teaspoon ground nutmeg
1/2 teaspoon salt
2 egg whites
1 (9 inch) unbaked pie shell
Strousel Toppings
2 tablespoons all -purpose flour
1/4 cup packed brown sugar
1.5 teaspoon ground cinnamon
2 tablespooons butter,chilled
1 cup chopped walnuts
preheat the oven to 425 degrees F (220 degrees C)
In a large bowl, mix together the pumpkin, sweetened condensed milk, and egg yolks. Stir in 1 teaspoon cinnamon, ginger, nutmeg, and salt. In a large glass or metal bowl, whip egg whites until soft peaks form. Gently fold into pumpkin mixture. Pour filling into pie shell.
Bake for 15 minutes in the preheated oven. While the pie is baking, prepare the streusel topping: In a small bowl, combine the flour, brown sugar, and 1.5 teaspoon cinnamon. Blend in the cold butter with a fork or pastry blender until the mixture is crumbly. Mix in the chopped nuts. Sprinkle the topping over the pie.
Reduce the heat to 350 degrees F (175 degrees C). Bake an additional 40 minutes, or until set.
House OK's Patch to SGR
The MGMA announced recently that the House has passed a temporary freeze on the Medicare Sustainable Growth Rate (SGR) cut. The
proposed 23% cut to Medicare physician payment schedule was set to be in place on the 1st of December. As the legislation passed the Senate on November 18th, it is shortly to appear before the President who is expected to sign it without delay. The freeze on the cut is set to expire on the 31st of December.
This delay is set to be paid for by a 20% reduction in money slated for outpatient therapy. The MGMA is reportedly working towards a one year extension on this delay until a suitable compromise can be reached.


You can read more about the MGMA's actions and other related topics at the links below:
Wishing everyone a prosperous New Year and a happy holiday season.
Sincerely,

MedNetwoRx